Facebook official press release following today's press conference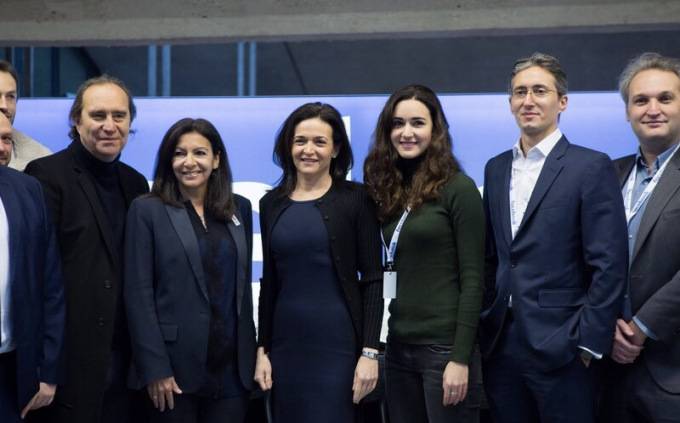 Sheryl Sandberg, Facebook's Chief Operating Officer, today unveiled details about Facebook's first ever on-site startup initiative, located at Station F, the world's biggest startup campus located in Paris.
Facebook will be a founding partner of Station F, which opens its doors in April 2017. The initiative, called Startup Garage from Facebook, will help foster growth among independent businesses that can be part of the growing data economy in France and Europe, an economy which will be worth as much €1tn a year across the whole of the EU by 2020, according to data cited by the European Commission.
In partnership with Station F, the Startup Garage from Facebook will empower data-driven startups in France to accelerate their businesses in new and innovative ways, placing peoples' trust and control over their data at the core.
The multi-million euro commitment over a number of years will provide 80 desks and working space for 10-15 independent startups, which will each spend six months at the space at Station F. Participating startups will have access to one-on-one office hours and weekly workshops run by experienced Facebook employees and independent experts. The workshops will span areas including design and user experience, marketing, technical support or user focus groups, for example.
Facebook will also host a series of events focused on developer tools and building successful businesses open to all other startups at the Station F campus.
The Startup Garage will form part of Facebook's global commitment to supporting developers and startups through events like F8, Facebook's global developer conference, or FbStart, a program designed to help mobile startups build and grow their apps.
Facebook currently invites applications for a first group of early-stage startups to join the Startup Garage when Station F opens its doors in April. Applications can be made via the Startup Garage Facebook page.
An initial group of successful applicants includes Chekk, which allows people to manage their personal information online, Mapstr, a location service that lets you bookmark favourite places, The Fabulous, a science-based health app, Onecub, which creates a digital dashboard of users' lives, and Karos, a transport and carpooling app that provides greater flexibility for commuters.
Speaking during a tour of the space at Station F, Sheryl Sandberg, Chief Operating Officer of Facebook said:
"Facebook is thrilled to be a founding partner of Station F. We are committed to France, which is home to some of the most innovative technology companies in the world. We look forward to bringing together entrepreneurs, developers and startups in this unique space where they will grow and flourish, and we're excited to support a new generation of French startups with enormous potential to grow the economy and create jobs."
"We are thrilled that Facebook chose Station F to house its very first on-site startup initiative worldwide. We see this as a true partnership, which will provide the whole campus with access to Facebook's teams and expertise. Facebook's story continues to inspire entrepreneurs from around the world and the company is truly a great model for the thousands of young startups that will be working at Station F," said Roxanne Varza, Director of Station F.
"Facebook is incredibly strong when it comes to technical innovation and they have contributed massively to creating an entrepreneurial culture amongst the new generation. The Station F campus will be a perfect home for the launch of Facebook's Startup Garage and we look forward to working together to build an even stronger ecosystem," said Xavier Niel, Founder of Station F.
The new initiative builds on Facebook's existing investment in France. In 2015, Facebook launched its AI Research centre in Paris, employing the most talented researchers from France and across Europe in a team which will grow to 25 people by the end of 2017.