A great example as part of the broader collaboration between Chekk and Standard Chartered Bank's various business units. Read more about our work with Olea on SC Ventures | Standard Chartered website: https://bit.ly/3qbCfr7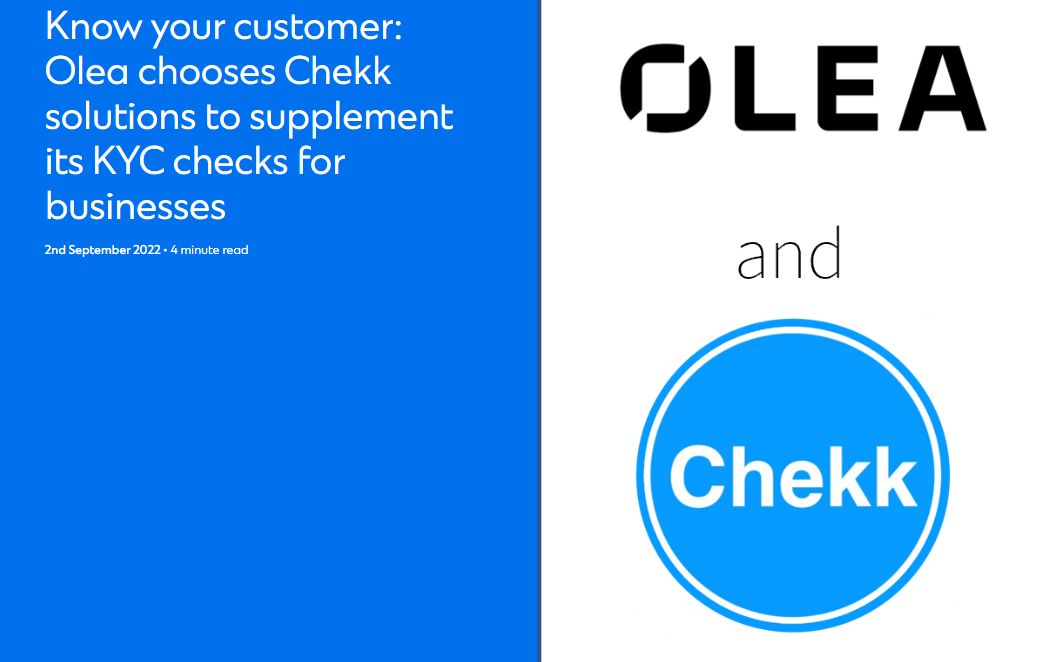 Olea, a joint venture between Standard Chartered and Linklogis that aims to empower sustainable trade, has partnered with Chekk, an award-winning customer interaction SaaS, to verify the identity of its customers. Choosing to use the KYC solution developed by Chekk, Olea can have safer and faster digital interactions with its customers.
Fraud, money laundering, terrorist financing, sanctions and tax evasion are all real risks to business, not to mention threats to data privacy and security. In the last decade, regulations have been implemented around the world to ensure that individuals and companies can conduct business in a safe environment. Balancing compliance and adherence to regulatory requirements, while preserving customer experience and privacy may pose a challenge.
For Olea, finding a reliable data source to cross-check customer identity with an independent party was vital.
Faster onboarding thanks to KYC solution from Chekk
Olea is reshaping how supply chains are financed. Technology enables Olea to gain trusted insight into the supply chain, so that investors can understand their risk and manage their portfolios with greater confidence. Suppliers also get fast access to working capital, enabling them to focus on growing their businesses.
Olea has partnered with Chekk to cross-check customer ownership, including Ultimate Beneficial Owner (UBO) checks. Chekk is a leader in digital Know Your Business (KYB) and Know Your Customer (KYC) solutions, with a modular platform compliant with relevant regulations.
"Data quality is critical to the Olea model. The solution from Chekk provides fast authentication and automated checks through configurable forms, pre-filling of data from government registries and globally available commercial data sources. It is efficient, and improves the customer experience" says Uthamaraj Kuppuswamy, Chief Data Officer at Olea.
Collaboration leads to broader partnership and growth
Chekk's partnership with Olea is a great example of its larger relationship with Standard Chartered. Multiple units and partners of the bank are also leveraging similar relationship between Chekk and Olea, with more being added. Building on these success stories, it was recently made public that Standard Chartered Bank had joined Chekk's multi-million dollar financing round announced in June this year, led by HSBC and with participation of venture capital firm SOSV.
"The great collaboration with Standard Chartered Bank and its partners over the last couple years has been a fantastic illustration of the growth of our company. We have been chosen by more and more clients (e.g., Bain Capital, Ripple) and built strong strategic partnerships (e.g., KPMG, Moody's) across the world. And we are now excited by the next phase of our partnership with the bank." Said Pascal Nizri, Co-Founder and CEO of Chekk.
About Chekk
Chekk is an award-winning customer interaction Software-as-a-Service (SaaS) platform, co-founded and led by industry experts (Pascal Nizri and Benjamin Petit), with the mission to remove pain and costs from interactions between companies and their individual and business customers, whilst enabling financial crime prevention, access to financial services and new business relationships.
With solutions such as instant Know Your Business (KYB), 30 seconds Know Your Customer (KYC) and Data Portability, Chekk can be consumed in a modular way and delivered via out of the box Web, Mobile, SDK and API applications, to access powerful capabilities (workflows, real-time risk engine, automatic visual company unwrapping, forms pre-filling & company documents, customer outreach Web & Mobile tools, multi-lingual AML checks, beneficial owners UBOs identification and verification for 400 million businesses across 200 countries).
Chekk is supported by renowned investors (e.g., HSBC, Standard Chartered Bank), customers (e.g., Standard Chartered Bank, Bain Capital, Ripple) and strategic partners (e.g., Moody's, KPMG) around the world.
About Olea
Olea is a digitised supply chain platform that brings together businesses requiring supply chain financing with investors interested in trade finance assets as an alternative asset class. The platform provides a radically transparent, fast and hassle-free way to access working capital online.
Olea is a joint venture between Standard Chartered and Linklogis. Standard Chartered brings its international trade expertise in 60 countries over 160 years, unparalleled expertise in risk analytics on 50k+ corporate clients (including MNC buyers and SME suppliers) and, commitment to sustainability and net zero emissions by 2030. Linklogis is a leading supply chain technology solution provider in China with >20% market share, the largest receivables asset originator in China with USD 20bn annual throughput, and is backed by reputable investors including GIC, BlackRock, Sequoia and Tencent. Olea is uniquely positioned to reinvent trade finance and be a force for good to drive meaningful impact in the global economy.
About SC Ventures
SC Ventures is a business unit that provides a platform and catalyst for Standard Chartered to promote innovation, invest in disruptive financial technology and explore alternative business models.