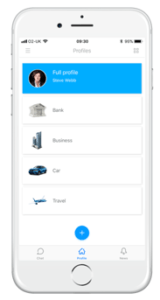 Chekk has released a whole new version of its mobile App (https://apple.co/35QV9sc) for consumers and corporates' directors, Ultimate Beneficiary Owners (UBOs)… to own, manage and share their data, all with a whole new leading edge end-to-end dual encryption.
With Chekk, users are empowered through the mobile data wallet app to own their Digital Identity and control what data they share, and businesses get a secure platform (mobile, web, portal, APIs, white-label) for seamless consent-based data requests and on-going customer interactions (eg., customer due diligence at on-boarding and refresh; verification of ID; secure communications for offers, alerts, statements).
As a user, the Chekk Mobile app enables you to scan, store and manage your personal data (eg., passport, ID card, driving licence, bank and insurance details…), create personal profiles combining data (eg., Bank profile with ID, accounts and policies details; Travel profile with passport, hotel and frequent flyer cards), and share these with others by granting access to your data. It makes your life easier when you need to look up for your data to fill a form or share some of these with a business (eg., bank, travel agent…) And it's also a central place for you to receive messages (eg., offers, alerts, statements) from the businesses your interact with.
Chekk Mobile features new and improved off-line and on-line Optical Characters Recognition (OCR) engines with broad capabilities on ID documents around the world (inc. passports, identity cards, driving licences, visas, residence permits… with and without Machine Readable Zones – MRZ), improved off-line and on-line Face Matching and Proof of Life capabilities for you to confirm your identity thanks to triangulation between a video selfie and identity documents, and connectivity with the Chekk Portal (for Financial Institutions and others to interact with you, send & verify data requests, manage on-boarding / KYC & AML…) and with the Chekk Web (for consumers and corporates to securely manage their data and answer data requests, including with features similar to Chekk Mobile and with data pre-population, auto-mapping of company hierarchies & UBOs, delegation to partners and directors…)
Your data is fully secure and encrypted with symmetric and asymmetric keys at a user and data level, in a way that even us can't see it. We use the best industry-tested and accepted standards of password hashing and salting, and your full password itself is never sent to Chekk servers and as such we can't decrypt your data (every time you enter new data in Chekk, new encryption keys are generated to store these specific data).
Chekk has been featured by the World Economic Forum in their Digital Identity report, selected by Facebook to join their first-ever accelerator and by Citi Group through the Tech4Integrity programme (through which it won awards from Microsoft and IBM), won the Money 20/20 conference, was selected into the Village by Credit Agricole, and is actively engaging with regulators and businesses (eg., banks, insurers…) around the world to facilitate interactions between them and their customers.
Note: Some capabilities and features are only accessible when the user is invited by a company