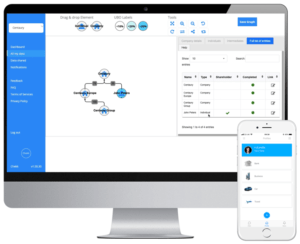 After months of work, Chekk reveals its news Chekk Web and Portal with corporates capabilities!
In addition of the Chekk Mobile app (https://apple.co/35QV9sc) already available for consumers and corporates' directors, Ultimate Beneficiary Owners (UBOs)… to store, manage and share their data, Chekk releases now the Chekk Web for Corporates to offer similar features to businesses and more functionality specific to KYB, including dynamic customer due diligence at on-boarding and KYC refresh; connectivity to people & business registries around the world for company unwrapping & UBOs discovery, pre-population and continuous AML checks with fuzzy logic & phonetics; electronic verification of identity with OCR, Face Matching, Proof of Life, ML/AI and antifraud for individuals, directors and UBOs; secure data wallet and messaging for consent, data portability, alerts, statements.
When a Financial Institution invites a Corporate customer to open an account via the Chekk Portal or the API, and/or when a Corporate customer connects to the Chekk Web, the platform automatically sources data about their business from company houses and the financial institution, creates automatically a visual company structure chart (inc. for complex structures with entities, sub-entities, directors, UBOs), and pre-fills the KYC / KYB forms as much as possible. Then the Corporate customer (eg.., business owner or KYC coordinator) can review, correct (including the company structure chart with simple drag & drop), and complement the data and documents through the user-friendly interface.
All the information is then securely stored in a personal data wallet for both the business and its people (directors, UBOs…) to use and reuse across business lines, entities, countries…and securely shared with the requesting Financial Institutions with continuous update of KYC / KYB and associated controls (eg., daily refreshes of Anti-Money Laundering checks with fuzzy logic, transliteration and phonetics).
It's a pragmatic and flexible platform which works cross-business lines and cross-borders, which can be easily deployed via fully secure APIs or SaaS (with a new and leading edge end to end encryption at each customers and data points levels).
Don't hesitate to contact us (contact@chekk.me) to find out more about it!