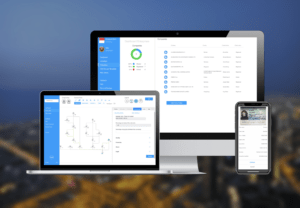 The new platform Chekk Version 3 is here! After months of team work, Chekk is pleased to announce the release of its new Digital Identity, KYC, AML & Data portability suite for on-boarding, verification and interactions with Retail & Corporates customers via Chekk Portal, Web, Mobile & APIs.
Send a mail to contact@chekk.me to book a live demo and get your test account, with:
– Easy to create & maintain digital forms for KYC, FATCA, CRS… with visual drag & drop builder usable by anyone in your business to create unlimited forms in minutes;
– Worldwide connectivity to corporate registries & data sources (access to over 350 millions entities) for company unwrapping, UBOs discovery, auto dynamic & modifiable visual structure graph and data pre-population in forms;
– Multi-lingual continuous AML checks (PEP & Sanctions screenings) with daily refreshes of the lists, aliases, fuzzy logic, transliteration, phonetics, multi-lingual searches & results (inc. Arabic, Russian, Chinese…), compliance reports;
– Electronic verification of identity for individuals and corporate directors & UBOs in over 190 countries with auto-classification of documents country & type (passports, identity cards, driving licences, resident cards…), OCR, video based Face Matching & Proof of Life (automated or attended), antifraud checks (holograms, tampering, document features…);
– Biometric based Digital Signature for multi-factor authentication, remote signature of transactions & contracts, etc.;
– Secure data wallet for companies & individuals and interactions tools for consent management & data portability across business lines, countries & entities;
– Built on secure architecture, Artificial Intelligence (AI), Machine Learning, Deep neural network, end-to-end dual layers of encryption at each customer & data point levels (Chekk doesn't have the keys and can't see your & your customers' private data);
– Full APIs for data exchanges & capabilities enhancement of your own systems, with a dynamic visual documentation ("swagger") to enable fast & easy integration into your own ecosystem;
– Web & Mobile Software-as-a-Service (SaaS) front-ends for your staff & customers (individuals & corporates).