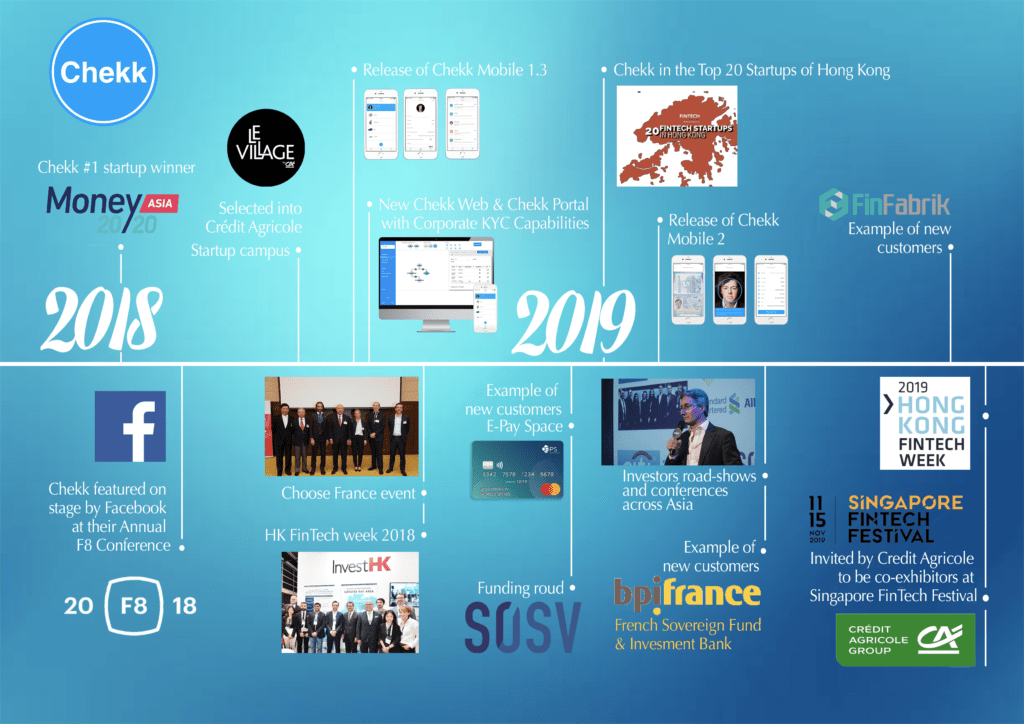 A lot has happened (new products, teams, clients and funding) since we last communicated about Chekk when we won Money 20/20 Asia last year. Chekk was featured at Facebook F8 conference after being in their first-ever Startup accelerator, and then selected by Credit Agricole and moved our French teams to their offices next to the Champs-Elysées.
The team expanded and released new versions of Chekk Mobile, Portal & Web for retail & corporates, with on-boarding & KYC refresh, connectivity to people & business registries (company unwrapping, UBOs discovery, continuous AML checks), ID verification (OCR, Face Matching, Proof of Life), data wallet (consent & data portability). All available via secure APIs, SaaS or white label, with leading edge dual end to end encryption.
Chekk was then featured in the top 20 Hong Kong Startups, raised funding from SOSV, and signed more clients across Europe & Asia, including Bpifrance (state owned Investment Bank for SMEs & large corporates), E-Pay Space (global payment provider) and Finfabrik (asset management FinTech).
More to come with Chekk co-exhibiting with Credit Agricole at the Singapore FinTech Festival and progressing large commercial deals, partnerships and funding round. Follow Chekk to stay up to date!